Welcome to the Utah Trauma Registry!
The Utah Department of Health, Bureau of Emergency Medical Services (EMS), and the Intermountain Injury Control Research Center (IICRC) at the University of Utah have collaborated on a project to collect state-wide trauma data at one central repository at the IICRC. Read more...
New research indicates an increase in ATV
related head and spine injuries in Utah...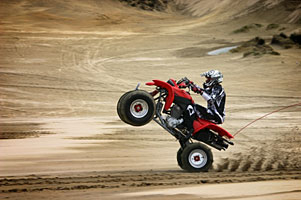 Severe trauma to the head and spine resulting from all-terrain vehicle (ATV) crashes are increasing dramatically in Utah. With Utah's easy access to public land, this persuades out-of-state tourists to rent ATVs while visiting. The number of crashes involving ATVs in Utah is increasing faster than the national average. Close to 90,000 ATVs are registered in Utah alone.
Roll overs are the most common form of ATV crashes in Utah, followed by collisions with stationary objects. ATVs have a high center of gravity, high ground clearance and short wheel base, resulting in an unstable design. Children are at an additional risk for rollover-type mechanisms because they have less weight and strength to forcefully lean the vehicle into a turn, especially when operating an adult-sized vehicle.
Although the hospitalized injuries caused by ATVs are large in number, in Utah 98.9% of patients leave their respective hospitals alive. This is due largely to the skilled and dedicated staff members of various hospitals around Utah. Nationally, ATV injuries are estimated to cost 3.24 billion dollars annually. The best prevention for brain and spine injuries while riding ATVs: Don't get on a machine without a helmet. Period.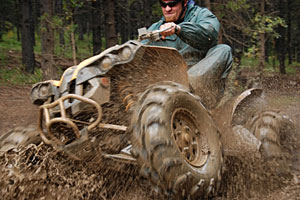 The Utah Trauma Registry Project promotes data collection to better care for patients and enhance prevention measures by providing effect feedback on juries and mortality rates.
For additional resources and read articles that have benefited from the Utah Trauma Registry project, click here and here.